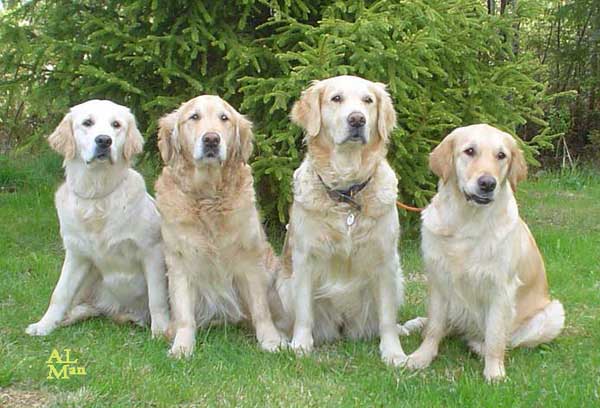 Vasemmalta / From left: Paloma, Hippu, Mysis Polarina, Rogerwiek Amazing Sunset
In memoriam
"Hippu"
(Godwin's Jackpot Jack - FIN MVA Mäntypirtin Sametti)

30.10.1993 - 30.6.2004

Kasvattaja / breeder Marjut Nieminen, Muhos
Omistaja / owner kennel Mysis, Oulu
Kultainennoutaja narttu / Golden retriever female
A-A lonkat / hips
0-0 kyynärnivelet / elbows
Terveet silmät / Eyes clear
Normaali purenta / Correct bite
Merits:
Näyttelyistä SA PN2 VACA
Hyväksytty noutajien taipumuskoe
NOME-B ALO-2
Muuta tietoa / other information:
Hippu oli todellinen vanhanajan kultainennoutaja, kauniinvärinen, mukavaluonteinen, työskentelyhaluinen ja terve narttu. Erinomainen metsästyskoira. Mysis P-pentueen emä.


Hippu was a bitch with nice rich golden colour, nice temperament, willing to work, a true Golden of old times. She had merits from shows and field tests. She was excellent working retriever. She is dam to Mysis P-litter.
Sukutaulu/Pedigree