In Memoriam
"Urpo"
(Palabras Ozone Free - Mysis Mediterranea)

30.9.2009 - 23.5.2014

Omistaja/owner kennel Mysis, Oulu
Musta uros / black male (BbEe, kantaa ruskeaa ja keltaista)
B-B lonkat / hips
0-0 kyynärnivelet / elbows
Silmät OK / Eyes checked (06.05.2013, lievä alaluomen ulospäinkiertyminen / mild ectropion)


prcd-PRA normaali sukutaulun perusteella / Normal by pedigree
EIC normaali vanhempiensa geenitestitulosten perusteella / Normal by parentage
CNM normaali / Normal


Normaali purenta / Correct bite
Säkäkorkeus 59 cm / Height at the withers 59 cm
Kuin partiolainen, aina valmis toimintaan, mukava ja reipas luonne / Active, nice temperament
Näyttelyistä:
VSP
1 x SERT, 1 x VASERT
PU-1, PU-4
Merits:
BOS
1 x CAC, 1 x ResCAC
BD 1st, BD 4th
Muuta tietoa / More information:
Urpo jouduttiin lopettamaan virtsarakon ja virtsanjohtimen alaosan kasvaimen vuoksi. Urpolla oli suuri ja rakastava sydän ja kaipaamme partiopoikaamme joka päivä. / Sadly, we lost Urpo because of tumor in urinary bladder and lower part of ureter. We miss him every day.
"Little bit long in the legs. Nice kind head. Neat ears. Good reach of neck. Good depth of chest. Good barrell rib with plenty of springs. Good level topline. Well of the bone. Good front and rear angulations. Moves a little wide in front, moves with drive." Oulu Labradorinnoutajakerhon erikoisnäyttely 7.9.2013 Margaret Coddington GB (Genisval)
"Tyyppi erinomainen. Komea pää, hieno pigmentti, tummat silmät, vahva kuono. Hyvä runko ja raajakokonaisuus. Todella vahvat käpälät. Tuuhea kaksinkertainen karvapeite, paksu häntä, jossa oikea karvapeite. Liikku pitkällä askeleella." Iisalmi kr 4.8.2013 Pekka Teini
"Vankka maskuliininen kokonaisuus. Hyvä uroksen pää. Hieman löysät huulet. Hyvä ilme. Riittävä kaula ja etukulmaukset. Eturinta saisi olla selvempi. Hyvä luusto. Suorat ranteet. Hyvä runko, aavistuksen pitkä. Hyvät takakulmaukset. Hyvälaatuinen karva, joka ei tänään täydessä kunnossa. Hyvä luonne. Hieman korkea häntä liikkeessä. Liikkuu hyvin." Ylivieska kv 21.7.2013 Hannele Jokisilta (Palabras)
"Välutvecklad hane av utmärkt typ, stram. Maskulint välformad huvud, prima stop, ögon och öron. Utmärkt överlinje. Tillräckligt förbröst. Balanserade vinklar. Välformat bröstkorg. Välmusklad lårpartiet. Rör sig litet slarvigt fram, utmärkt steglängd med kraft och spänst. Utmärkt pälskvalitet men inte i full päls för dag. Trevligt visad." Raahe rn 9.5.2013 Lena Hägglund (O'Flanagan)
"Strong, masculin dog. Lovely head & expression. Good neck & shoulders. Well developed body in excellent condition. Correct tailset. Good bone. Moves well. Carries his tail a bit high on the move. Good feet, a bit straight in pastern. Lovely temperament." Oulu Labradorinnoutajakerhon erikoisnäyttely 11.9.2011 Siv Sandö NO (Eyecatching)
Kuvia / photos: © mysiskennel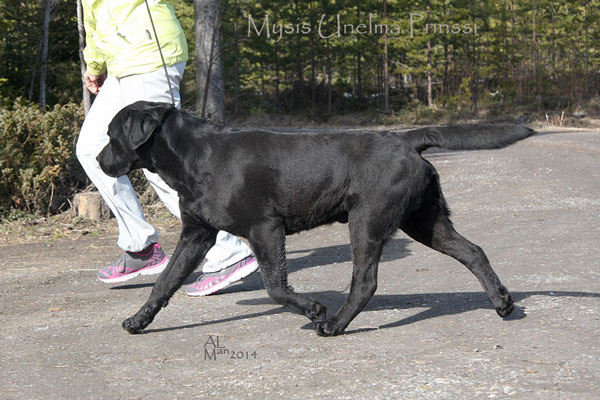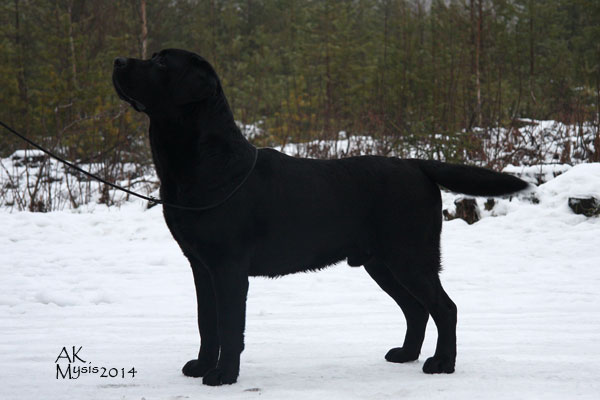 2014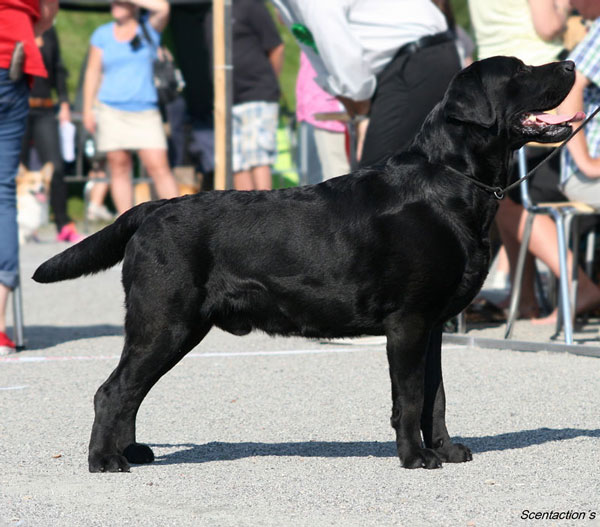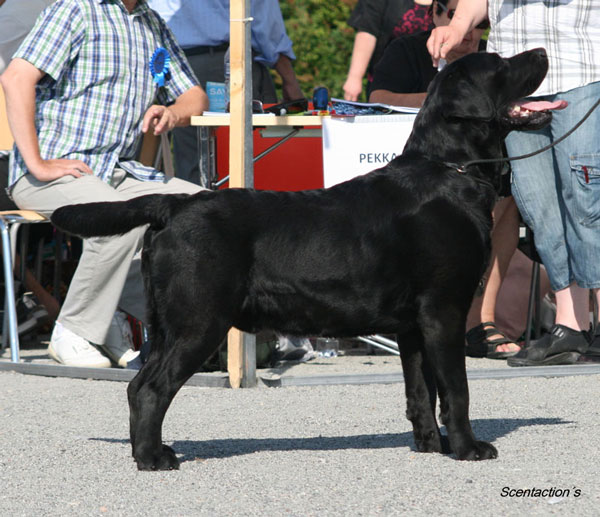 4.8.2013, Iisalmi international dog show, kuvat/photos © ALMan @ Scentaction's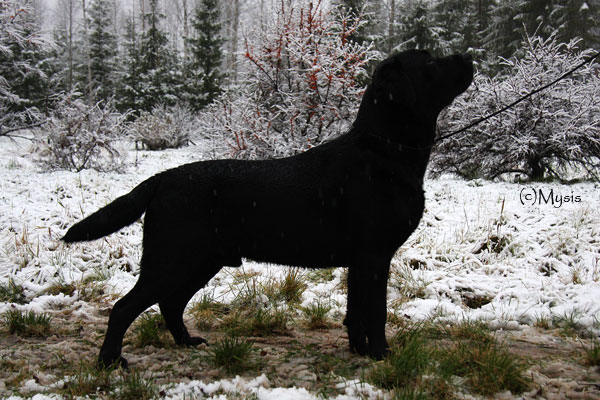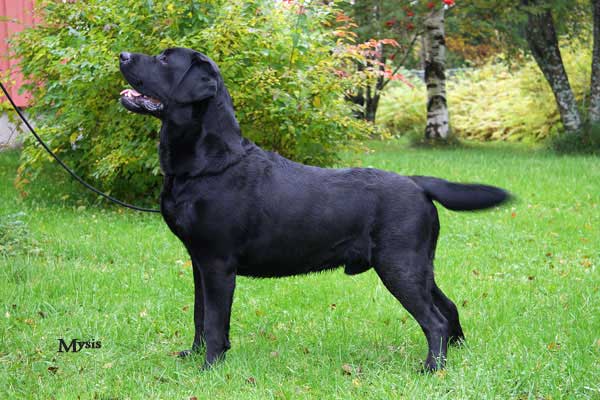 3 v/y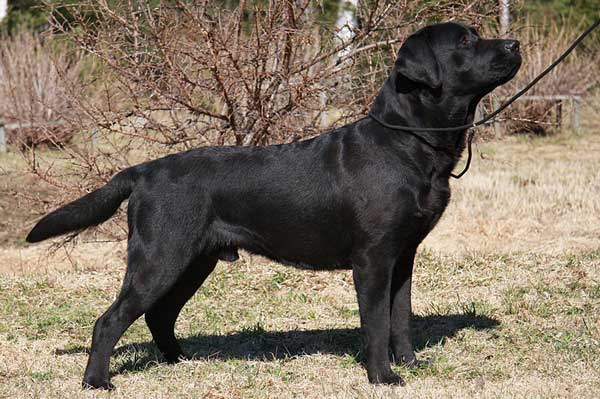 1,5 v/y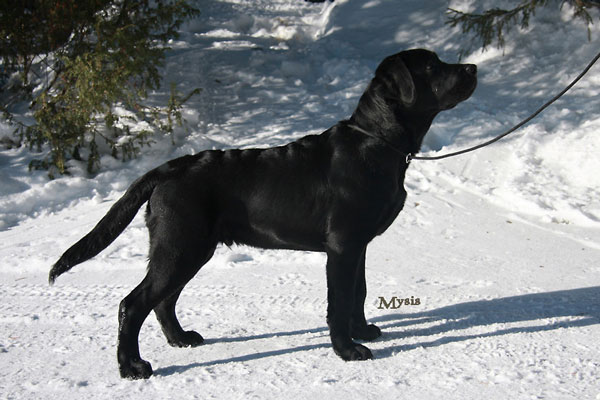 5 kk/m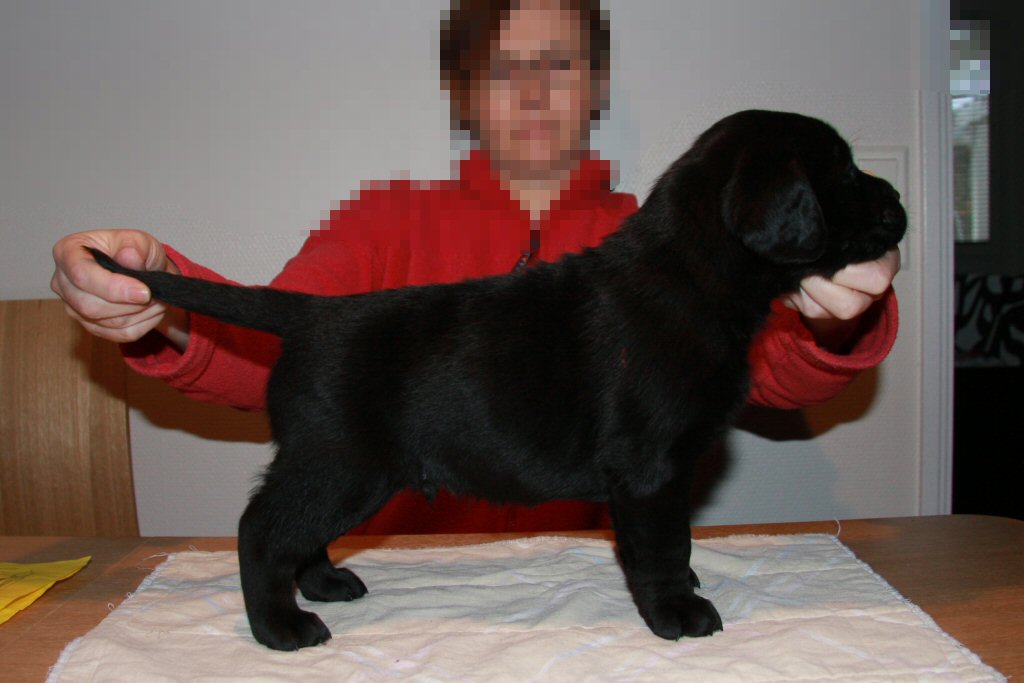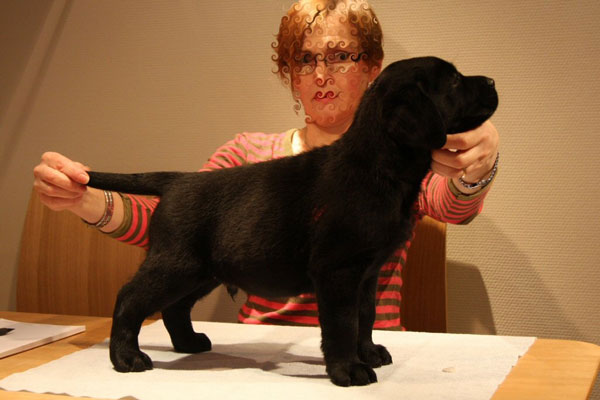 V/L: 4 vko/wk, O/R: 6 vko/wk
Urpon jälkeläisiä / Urpo's offspring:
kennelnimetön pentue/litter *30.4.2012
emä/dam Brookhill's Quicksand (Solitaire Jack Od Himalajskehocedru x Brookhill's Java Jive)
Amanda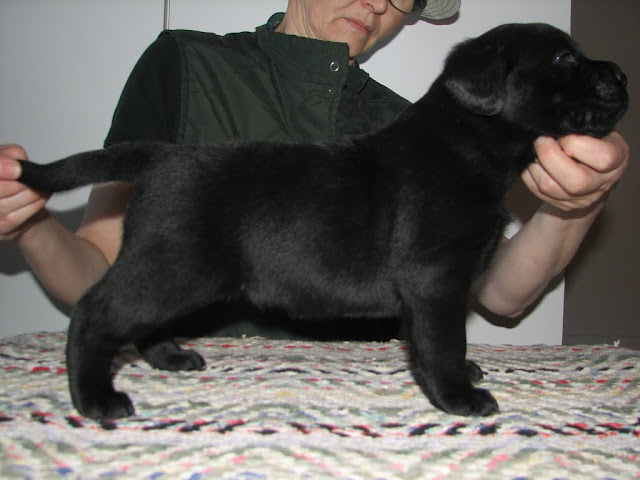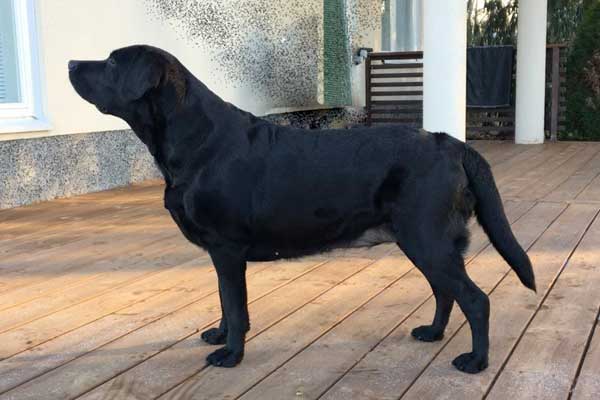 V/L: 4 vko/wks, kuva/photo © Taavi Isokääntä, O/R: 6 v/y, kuva/photo © Mari Ojantakanen
Sukutaulu/pedigree